He's on the hook of some of the most unsavory people in politics
The question we all want to know, is where did it come from? John McCain keeps hiding and refuses to answer that question!
What we do know, thanks to an investigation by The Daily Caller, is that the McCain Institute for International Leadership received a VERY GENEROUS donation from none other than George Soros.
The institute is intended to serve as a "legacy" for McCain. It "is dedicated to advancing human rights, dignity, democracy and freedom". It is also a tax-exempt non-profit foundation with assets valued at $8.1 million and associated with Arizona State University.
John McCain turned over nearly $9 million in unspent funds from his failed 2008 presidential campaign to a new foundation bearing his name, the McCain Institute for International Leadership.

His legacy should be that of a traitor, after derogatory remarks about a sitting president said while over seas.
But McCain has very deliberately refused to release a list of donors and the dollar amounts they provided.
So, we know that Soros gave a lot of money. And we know that the McCain Institute got even more from other parties, but that he's not going to tell us who.
The DC gives us more:
Critics worry that the institute's donors and McCain's personal leadership in the organization's exclusive "Sedona Forum" bear an uncanny resemblance to the glitzy Clinton Global Initiative (CGI) that annually co-mingled special interests and powerful political players in alleged pay-to-play schemes.

The institute has accepted contributions of as much as $100,000 from billionaire liberal activist-funder George Soros and from Teneo, a for-profit company co-founded by Doug Band, former President Bill Clinton's "bag man."

Teneo has long helped enrich Clinton through lucrative speaking and business deals.

And Bloomberg reported in 2016 on a $1 million Saudi Arabian donation to the institute, a contribution the McCain group has refused to explain publicly.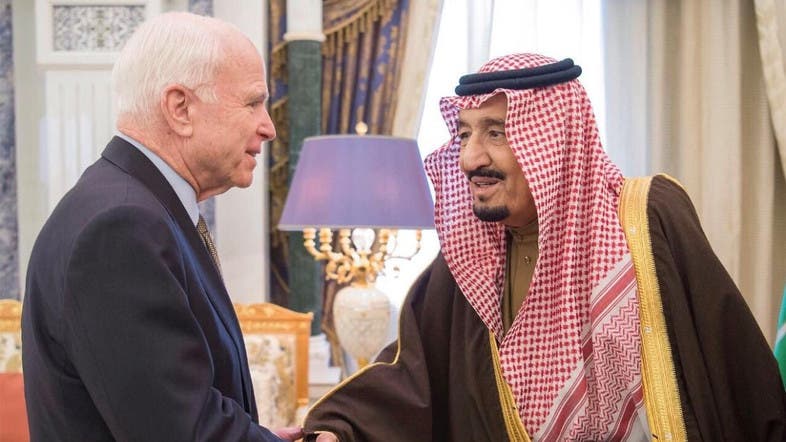 He takes big money from the Saudis
---
In addition, the institute has taken at least $100,000 from a Moroccan state-run company tied to repeated charges of worker abuse and exploitation. The McCain group has also accepted at least $100,000 from the Pivotal Foundation. It was created by Francis Najafi who owns the Pivotal Group, a private equity and real estate firm.
What exactly is John McCain doing behind closed doors? What is he doing for Soros to get all that financial love?Charles Ortel, a retired Wall Street investment banker and philanthropy law expert, told The DC that:
"high government officials such as John McCain, [former Secretary of State] Hillary Clinton and President Barack Obama should not get involved with vehicles like these where substantial sums can be funneled over time in ways that at best, reeks of impropriety and at worse are public corruption."
The institute's donations suggest special pleading before the senator. They also in some instances appear to contradict McCain's vision of human rights and national security.
John McCain is no better than Obama and Hillary. He lost all conservative credentials years ago. It is high time that he is retired.
John McCain is indicative of the real problem in DC. Power held too long, always leads to corruption.
I believe McCain used to be a good man. He is no longer. What do you believe?
---
Source: Stonecoldtruth.com