16-02-19 10:19:00,
Waving both the carrot and the stick at Venezuelan President Nicolas Maduro, Washington hit Caracas with fresh sanctions and said it will use the military to send humanitarian aid to the crisis-stricken country.
The sanctions add to a growing pile of financial penalties the US has applied to Maduro's government in recent weeks. They target the country's state-owned oil company PDVSA, and five officials "in charge of Maduro's security and intelligence apparatus, which has systematically violated human rights and suppressed democracy, including through torture and other brutal use of force," in the words of Treasury Secretary Steven Mnuchin.
Also on rt.com
Maduro wants troops at border with Colombia against US 'provocation'
While squeezing the country's beleaguered economy with the intention to oust Maduro, the Trump administration is offering aid to those Venezuelans willing to back its handpicked "president" Juan Guaido. On Saturday, the US military will fly 250 tons of humanitarian aid to the Colombian town of Cucuta, on the border with Venezuela, according to a State Department email seen by the Associated Press.
On Friday, US Secretary of State Mike Pompeo said that "massive humanitarian assistance" would be on its way to the region this weekend. While US military aircraft will be used, a Pentagon official told the Washington Post that these planes will deliver the supplies of food, medicine and hygiene products, before returning to the US.
Some USAID shipments have already arrived in Colombia, where they sit waiting for refugees who cross the border from Venezuela. These shipments, however, were delivered by civilian planes.
Getting the deliveries into Venezuela is a different story. Maduro has already rejected American aid, denouncing the shipments as "crumbs" and pretext for an invasion. US National Security Adviser John Bolton no doubt helped stoke these fears with his not-so-subtle hint that the US might send"5,000 troops to Colombia."
Read more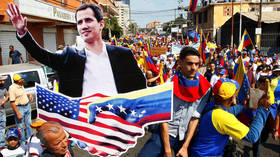 Critics of the Trump administration's push for regime change in Caracas have also pointed out that Elliott Abrams – the State Department's recently appointed special envoy for Venezuela – ordered the delivery of weapons to US-backed rebels in Nicaragua under the guise of "humanitarian aid" back in 1986.