02-09-20 12:49:00,
This year, as the Grand Lake Theater is closed due to Covid-19, we are doing an interactive webinar online only…you will be able to participate in the Q&A.
This Interactive WEBINAR Will Be LIVE STREAMED on
Thursday, September 10, 2020 at: Noon Pacific * 3pm Eastern * 19:00 GMT
(8 hours duration) (You will be able to participate in the Q&A)
The entire event will be archived for 7 days afterwards so you can arrive late or watch it later or again.
This year's Film Festival is dedicated to the memory of Chuck Millar, Giuletto Chiesa, and Sandra Brown, courageous, loving, truth seekers, who will be deeply missed.
2020 is an unusual year; weddings have been cancelled, schools closed, almost all large public gatherings banned, the global economy dismantled; the middle class and Main Street's small and medium sized businesses are struggling to survive. In California, the film industry, the theaters have been hit hard. The Grand Lake Theater, which has generously hosted countless events and 15 prior 9/11 Truth Film Festivals is currently closed.
In March, the Northern California 9/11 Truth Alliance could no longer meet legally and was forced to hold meetings in cyberspace. No Lies Radio hosted Zoom meetings and discussions and organizing continued, despite the obstacles and challenges that everyone faced The group voted to go "virtual" this year, with the assistance of No Lies Radio who has been webstreaming the live Film Festival for many years.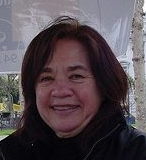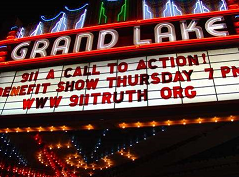 We will miss the Grand Lake Theater, the chance to hug, greet and talk with old friends and make new ones, the popcorn, the cookies, being together, in person. However, a virtual Film Festival is the best we can do, and does actually allow some interactivity, questions and answers, and bringing in distant speakers, without dealing with airports and hotels. Please join us! Voice your questions for our guest speakers and panelists. Guns and Butter's Bonnie Faulkner will kick off the Film Festival, as she has for 16 years! We will post the program here when we finalize it.
As this dramatic year continues to unfold, our program is evolving; we have penciled in films that are still in production,