27-10-20 10:03:00,
By Kit Klarenberg, an investigative journalist exploring the role of intelligence services in shaping politics and perceptions. Follow Kit on Twitter @KitKlarenberg
Controversial 'open source investigations' website Bellingcat was paid directly by the UK Foreign and Commonwealth Office (FCO) at least once, official data shows, debunking its founder and chief's claims to the contrary.
Suggestions that Bellingcat is a tool of Western governments, and funded by them directly, have long-abounded – and consistently been denied by founder and chief Eliot Higgins.
Such allegations reached fever pitch in late 2018, when files related to the UK Foreign & Commonwealth Office (FCO) military intelligence operation Integrity Initiative were leaked by hacktivist collective Anonymous. The papers revealed the secret endeavour, among other things, worked to discredit left-leaning, anti-war figures at home and abroad, and maintained clandestine global networks of journalists, academics, and military and intelligence operatives to spread pro-Western propaganda and encourage more aggressive policies toward Moscow.
Several documents openly referred to Bellingcat, at least one suggesting the organizations were collaborating on certain projects – if true, this would in turn imply Bellingcat was in receipt of FCO cash. Higgins was repeatedly probed on the question via Twitter, but he strenuously denied Bellingcat had conducted any work for or with the Initiative, or received FCO funding.
Read more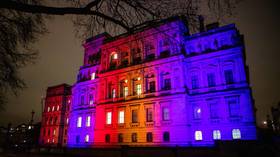 However, publicly-available documents prove the latter contention, at least, to be an outright lie. As Declassified UK chief Matt Kennard revealed on Twitter on October  26, official FCO procurement figures make clear the department paid Bellingcat £1,800 on December 20 2018 for "consulting, management and public relations" services – mere days prior to several of Higgins' spirited denials.
The precise nature of the "consulting, management and public relations" services rendered by the organization is unclear, although it may be related to shadowy FCO program Open Information Partnership (OIP).
Officially, under its auspices Bellingcat collaborates with the Atlantic Council's DFRLab, Zinc Network and Media Diversity Institute to "work together through peer-to-peer learning, training and working groups to pioneer methods to expose disinformation," in collaboration with a sizable network of NGOs across Europe.